We have helped multiple Federal, State, and Local Government agencies create Accessibility Compliant PDFs to meet section 508 and WCAG standards. We can also help in making your current PDF accessibility compliant OR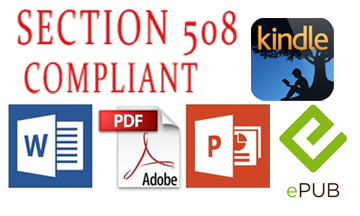 provide a solution on how a non-conformant PDF can be posted on your website by meeting regulation requirements.  When it comes to PDF, 508-compliant PDF creation becomes more important. Adobe PDFs are the most commonly used electronic document format but Section 508 Compliance of Accessible Documents includes Microsoft Word, Excel, ePUB, Mobi, XML, and PowerPoint, too.
What is Section 508 of the Rehabilitation Act of 1973?
In 1998, Congress amended the Rehabilitation Act of 1973 to require Federal agencies to make their electronic and information technology (EIT) accessible to people with disabilities. The law (29 U.S.C § 794 (d)) applies to all Federal agencies when they develop, procure, maintain, or use electronic and information technology. Under Section 508, agencies must give disabled employees and members of the public access to information comparable to the access available to others.
The U.S. Access Board is responsible for developing Information and Communication Technology (ICT) accessibility standards to incorporate into regulations that govern Federal procurement practices. On January 18, 2017, the Access Board issued a final rule that updated accessibility requirements covered by Section 508 and refreshed guidelines for telecommunications equipment subject to Section 255 of the Communications Act. The final rule went into effect on January 18, 2018.
What are WCAG 2.0 and 2.1?
Web Content Accessibility Guidelines (WCAG) is developed through the W3C process in cooperation with individuals and organizations around the world, with a goal of providing a single shared standard for web content accessibility that meets the needs of individuals, organizations, and governments internationally.
The WCAG documents explain how to make web content more accessible to people with disabilities. Web "content" generally refers to the information in a web page or web application, including:
natural information such as text, images, and sounds
code or markup that defines the structure, presentation, etc.
WCAG 2.0 was published on 11 December 2008. WCAG 2.1 was published on 5 June 2018.
WCAG is primarily intended for:
Web content developers (page authors, site designers, etc.)
Web authoring tool developers
Web accessibility evaluation tool developers
Others who want or need a standard for web accessibility, including for mobile accessibility
Related resources are intended to meet the needs of many different people, including policymakers, managers, researchers, and others.
How we can help you with Section 508 ADA PDF Remediation Services?
With many years of experience, we are the leader in document accessibility and compliance.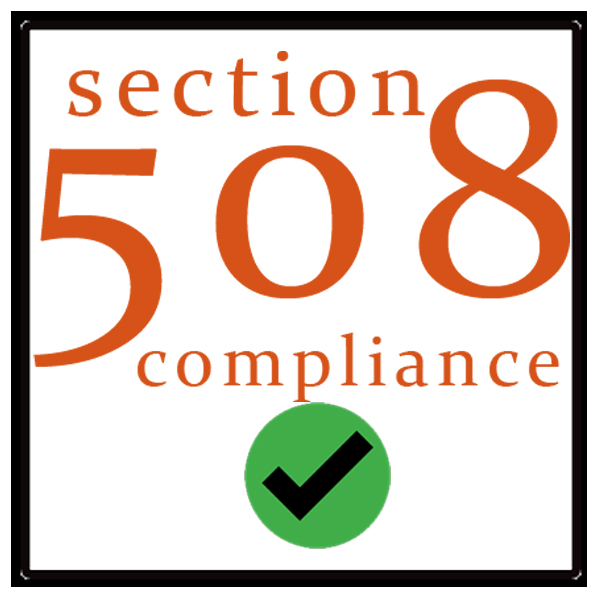 A completely in-house process ensures your confidential documents remain secure
ADA, Section 504 and 508 compliance and WCAG specialists on staff
Strict quality control procedures keep your data secure, accurate, and confidential
Validation is done for Section 508 and WCAG 2.0 standards
We offer an economical solution that is quick and accurate remediation options.
Alternate options to make your non-conformant PDF go live on the website. Contact us on how we can help with current PDF files.
PDF Accessibility Validators
CommonLook PDF Validator: completely tests a document against Section 508, WCAG 2.0 AA, PDF/UA, and HHS (U.S. Health and Human Services) standards.
Adobe Acrobat provides an automated way to check the accessibility of a PDF file. The Full Check feature in Acrobat checks a PDF for many of the characteristics of accessible PDFs. You can choose which accessibility problems to look for and how you want the results reported.
We can check the file by manually testing the file or using tools to ensure that it is a section 508 compliant file.
Contact Bob Mehta at 515-865-4591 or email Bob@ebookconversion.com to discuss 508-compliant PDF creation or your end goals so we can offer you the cost-effective and compliant solution for Section WCAG 2.0 and 508-compliant PDF creation.